360° Around View Monitor is assembled by four wide-angle camera modules installed around the car. Through these 4 images formed by overlaping and visual view stitched by images, it provides drivers a whole view arround vehicles.
The AVM surround view system with a 360° all-directional image is combined with 2D top view, 3D simulated view, reversing image, etc. functions. When driving in a narrow alley or mountain road, the driver can see the whole surrounding images to enhance driving safety.
The 360° all-directional view of angle stitched by four-side images can record not only the front accident, but also side and rear images of vehicles.
Can show a split screen with dual view, multiple-view screens can be set freely. After connecting vehicles, it can switch different image angle when turning and reversing, to completely grasp the surrounding situation.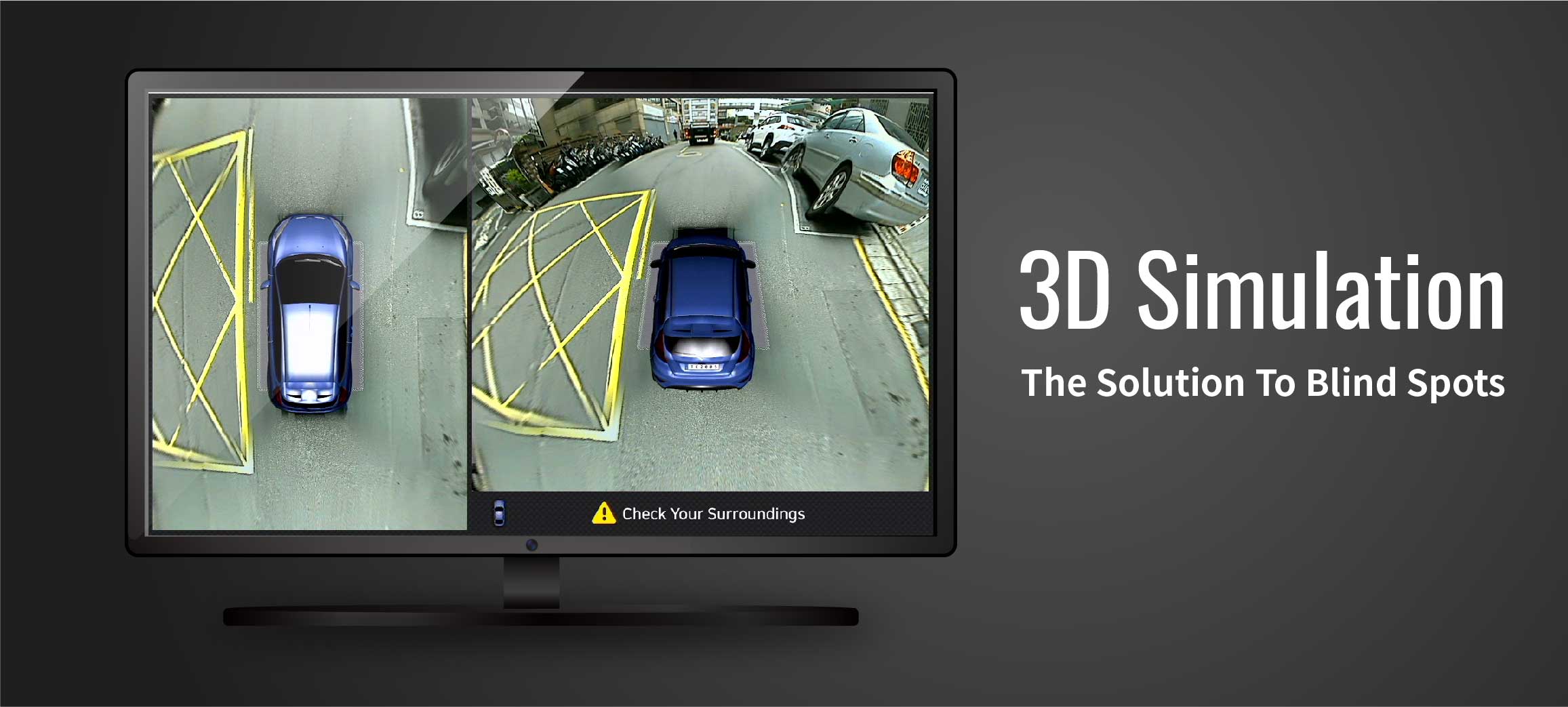 3D Simulation|
Use the 3D simulation of real car to allow drivers easy to grasp the direction and the distance from surrounding objects.
Zero Dead End|
Stitching four independent images from front, rear, left, and right camera modules together into a 360° surround view without dead ends can avoid A & B pillars, backstops, cargo, passengers, etc. to block sight.
Most of traffic accidents are caused by "failure to notice situation in front of car", "failure to comity in accordance with regulations", "change lanes or improper direction", etc. resulting in accidents. According to accident data from"Road Transport Bureau, Ministry of Land, Infrastructure and Transport", 60% caused by "rear collision", 20% caused by "side collision" and only 10% caused by "front collision" are shown. Comparing to dual camera modules installed in front view and rearview, this 360° Around View Monitor System can avoid blind spot and reduce the risk of accidents.
Besides of driving accidents, there are many tragic cases in society where children are accidentally run over by cars due to blind corners. When each driver can confirm that there are no children around through 360° surround images before driving, it can greatly reduce accident rate.